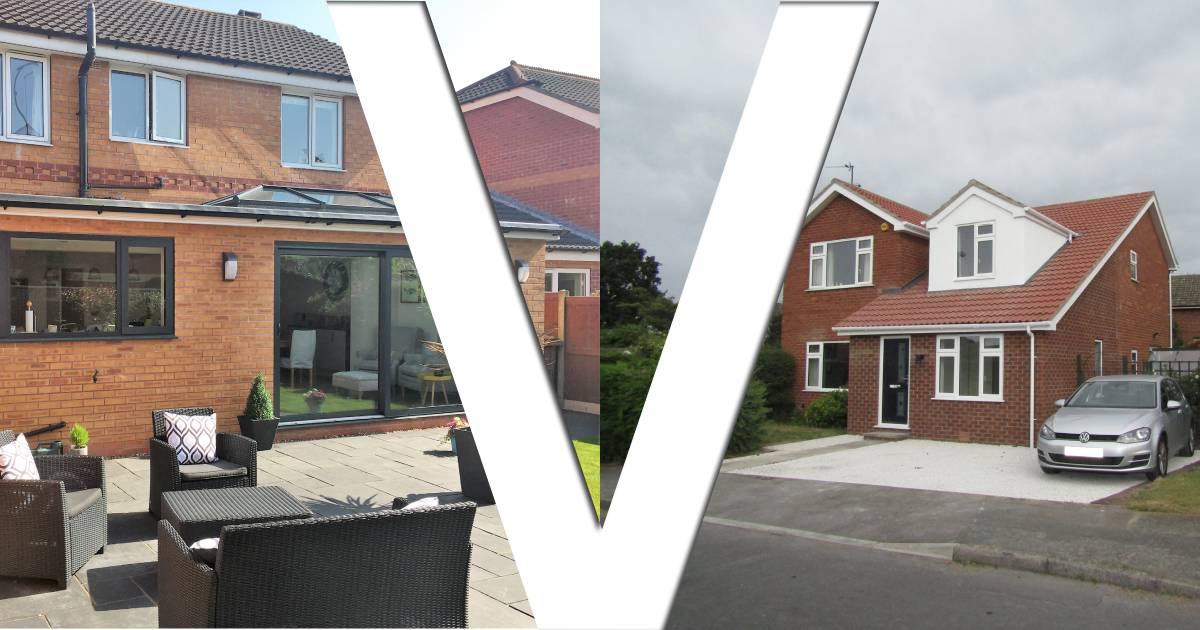 You're not short on options when it comes to renovating your home, and one of the biggest decisions often comes down to whether a loft conversion vs house extension is going to be the better fit. They both have a whole world of potential to offer your home, and that's putting it bluntly. They can both give your property an entirely new lease of life, but with both of them being so great, deciding which one's right for you might be easier said than done.
We've broken it down into the six most influential factors on your decision to give you a better idea of what's the best option. Of course, different things are important to different people, but these all have a big impact on your home.
Prices & Costing
The first place most homeowners look when debating if a house extension or loft conversion is going to be the best option is with the prices. They are often very different after all since they're totally different structures. Typically, loft conversions are the cheaper of the two.
Loft conversion use space that you already have in your home since you are building upwards, not outwards, and that alone is a big money saver to start. You already have a roof and a foundation, and that brings conversion costs much lower than building from a new. They typically range from 10,000 to 30,000 depending on your property, location and the type and size of the conversion you want, but they can go all the way up to 70,000+ for very large conversions with dormers, or even a mansard.
Extensions on the other hand tend to be more expensive even with less area being built. Typically, extensions tend to cost around 2,000-3,000 per meter squared. That would make a mid-sized extension, say 4×5 metres 40,000-60,000 to be built to a high quality. It can of course be done cheaper if the extension is smaller or uses cheaper building materials/facilities, but these are rough representative figures.
Ease of Build
As well as what they will cost to have done, another big decision influencer when deciding on a house extension or loft conversion is the ease of implementation too. How easy they are to have designed and built can be a big player in the final choice and deciding what is the best choice.
Loft conversions, since you are usually converting space that you already have, typically can fall under your Permitted Development rights. That means there is no planning permission required. With house extensions, that only tends to be the case if you are taking up less than 50% of your garden and the extension is smaller than 3×3 metres, which might not always be the case and will more often require planning permission to be built. That makes things very slightly more expensive and time consuming. Lofts are not guaranteed Permitted Development either and still may need planning, but it's uncommon.
The build of the renovations themselves is also very different. Loft conversions typically take 6 weeks to be designed and have all necessary approvals in place and then another 6-10 weeks to build. On top of that, most of this building takes place upstairs and in the roof, meaning there are not builders taking over your home. Extensions are of course much more complex, needing to move and add walls, changing facilities, and all in all, the process is slightly messier and takes a few weeks longer to complete, but they do provide much more accessible space, which we will come to shortly.
Variety & Options
Another key consideration for choosing a loft conversion or house extension is that there is a different level of variety on offer for your project. Lofts tend to be thought of as much more limited in what you're able to build, but there is actually a range of different options, just like there are with extensions.
Loft conversions are typically either dormer loft conversions, or Velux or roof-light conversions, and they're the most popular types in the UK. Even on top of these, however, there are also variations like mansard loft conversions, which solve the height restrictions many people face, as well as hip to gable loft conversions, which are ideal for end-terrace houses in particular.
Extensions however still do have a whole world of variety because of their very nature. Even on top of the placement, like with front, side or rear extensions, there is still the possibility to have them extremely uniquely built. There are options for open plan living situations, glass rooms, garden rooms, and everything in between, all working with the location they are built.
Space & Potetial
Looking to the point of space available in a loft conversion vs a house extension, it is a tricky one to debate. In most cases, it comes down entirely to budget and the space that you available to use, but there are still some important points to consider.
Generally speaking, loft conversions have the potential to have more floor space, since the loft likely spans the entirety of your home. That means there is a lot of space to be converted easily. The only real issue that comes from this is the space that would be available when it is converted once the insulation is added and any slants and staircases are factored in. you also then have to think about the type of loft you'd want to have, as dormers, hip to gable conversions and mansards will all provide even more room.
On the other hand, extensions are not one to forget about either. House extensions are of course a whole new room added to your property, or even multiple rooms with a larger extension or even a double storey. They don't have the limitations that lofts do, but they do have some of their own. Getting planning permission for larger extensions for example may be more difficult. All in all, though, extensions do technically have more potential for more space. It is one to think about.
Property & Resale Value
Any type of renovation will likely have a very big impact on the value of your property. That much is a given. If it is going to benefit your living situation even just aesthetically, then it is going to help the value of your property. Because of how different a loft conversion is vs a house extension though, there is still a difference in what they have to offer. If you are looking to the long term, this may sway your decision.
Loft conversions can actually add up to 20% to your property's value providing that it meets typical requirements of a bedroom and bathroom included, which is a huge chunk of equity likely worth more than you pay for the process. If it is not a bedroom, however, then this may be more like 5-10% simply for the added space. Either way, it is sizable.
Extensions, however, tend to be more consistent. That is providing that you're not ruining a room to get one by blocking its light or making it unrealistically small. They usually result in forced modernisation of your home which goes in their favour, and all in all, they tend to add £1000-£2000 to your property value per square metre of usable space, and that is even more in more expensive to live areas.
Uses
Another useful area to consider when making the choice between the two is the uses that they can practically provide you, your home and your family. Of course, any extra space is diverse, and you have a wide range of options of what to do with it. Being more realistic, however, there are some better fitting purposes than others that can help you to mould your home into a space that really works.
Loft conversions because of their location are generally well suited to be bedrooms, potentially with ensuite, and that is one of the main reasons for their massive popularity alongside their lower building costs. On top of that, having a room that is on its own floor and out of the way of other rooms, it also opens a lot of doors for them to become recreational spaces, providing you can move past potential banging on the ceilings in rooms below depending on the quality of the conversion.
Extensions, however, have a lot more room in the practical sense. The day to day space that they can offer you is huge. They give you the option for living space, kitchens, downstairs bathrooms, downstairs bedrooms for those in need, sunrooms, playrooms, open plan kitchen diners, utility rooms… the list is endless. There is also the option to add a second storey to the extension to get both upstairs and downstairs benefits of an extension, but that is all down to budget and preference. There is more variety, but at a greater cost for that prime location in the property and not something tucked away.
Implications
Finally, the last point to look at before you are able to crown a winner from your decision is the implications that both renovations can have on your property. They are not small changes after all. Having any work done can be stressful, and that needs to be remembered.
The build for example is much easier for a loft conversion than it likely is for an extension. All of the work being done in the roof makes things much more out of the way than an extension might be. It is also likely much quicker, too. They also tend to be more applicable to use permitted development rights in their creation, where larger house extensions do not have that option.
All in all, it all comes down to the budget you have to work with, and more importantly, what you need to gain from the finished project. Renovations like a house extension or a loft conversion can change your life in a range of different ways. They really can be transformational to your home life and add a huge chunk of value to your property at the same time.
If you're on the fence even after reading all of this information, the best people to speak to are always going to be architectural professionals like ourselves. Whether you are in the UK, we have teams on hand to help. Contact us today and we will do everything we can to point you in the right direction.